Data, Data Everywhere, With Governance Around the Corner
Despite heavy investment in collecting and managing data, the art of data governance is still emerging in the insurance industry.
Most insurance companies have some type of data initiative in place. They focus their efforts on implementing reporting tools, analytic tools, and repositories -- with all the tools that go with them. But despite the investment in collecting and managing data, the art of data governance is still emerging in the insurance industry.
The discipline includes a focus on data quality, data management, data policies, and a variety of other processes surrounding the handling of data in an organization. The purpose is to assure carriers have reliable and consistent data sets to assess performance and make decisions. I recently conducted a survey of CIOs to understand the role of data governance, some of the issues carriers face, and which governance initiatives generate the most value for carriers.
As more companies start to understand the value of their data as a key business enabler, they are seriously looking into the added value of data governance. Some see it as a prerequisite for all data and information-related initiatives, ranging from data cleansing to the implementation of analytics.
[Carnahan on systems modernization]
But carriers face governance challenges. Data is spread across a wide variety of applications, and data ownership is most often shared across the business and IT. Carriers report cultural resistance to understanding data issues, which makes it harder to find sponsors for data governance initiatives. Consequently, a large number of carriers deploy informal data governance initiatives -- especially larger carriers.
Most carriers have some level of data governance practice in place, whether formal or informal. However, although more than half of the carriers report governance as mission-critical or highly important, fewer than half have formal data governance initiatives in place.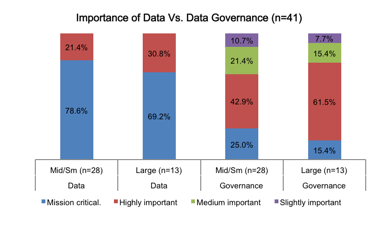 For most carriers, less than half of their data is governed either formally or informally. Midsized/small carriers report a greater percentage of their data is governed than large carriers. It may be that smaller organizations find it easier to exert governance initiatives across an organization than larger carriers, which often face fragmented organizational environments with multiple data owners.
Data quality issues are common in the industry, but they are less common among carriers with formal data governance initiatives in place. The top challenge carriers face when it comes to data is collecting and analyzing data quickly enough. A fragmented data environment follows, with poor data quality the third top issue. These problems build on each other; a fragmented data environment makes it difficult to collect the data quickly, and poor data quality makes it difficult to analyze and use the data to make better decisions.
The primary reason carriers implement data governance initiatives is to improve their decision-making. They are also looking to gain unique insights and improve their management planning.
Few carriers have a single organization owning the data, and when they do, it tends to be a business leader that owns it. This raises the question of who is most responsible for data governance. Carriers report significant cultural resistance to understanding data initiatives, which may be why a large number of carriers report that their data governance initiatives are informal. IT also means business and IT alignment is critical and raises the question of the role that the business should play in data governance.
Data quality initiatives drive the most value for carriers. A data governance council also drives significant value, and many carries are getting value from a centralized data governance team. However, few carriers are getting value from data audits or from having data governance metrics in place.
Next steps for CIOs

Keep it realistic: In organizations with shared data ownership, it will take time to get everyone on board with the value of data governance and the need to invest. Start small by working with those who recognize the value of data governance and are willing to contribute.
Develop a cross-functional approach to data governance: Build a strong partnership with the business by soliciting input from a wide variety of perspectives. Include business executives, IT managers, and end users. Getting explicit buy-in from key stakeholders and executive management will help establish priorities when making the difficult decisions often required in resolving data issues.
Gain support by communicating the benefits of data governance: Cultural resistance comes when the business doesn't understand the link between data quality and improved performance.
Prioritize the development of formal data governance initiatives: Informal data governance policies are prevalent. As carriers move from informal initiatives to formal initiatives, give priority to those that are most likely to deliver significant value.
Learn more about the Internet of Things at Interop's Internet of Things Summit on Monday, Sept. 29.
Karlyn Carnahan is a Research Director in Celent's insurance practice, focused on property/casualty underwriting, claims, distribution management, and insurance strategy. View Full Bio