Using Addressability to Create Scale
This approach provides companies with niche appetites the ability to compete at scale with their mass-market competitors.
The great battle among insurance companies has traditionally centered on distribution and pricing sophistication. Companies fight to get their product on every agent/broker shelf and, often, in front of the largest direct audience possible. This creates an auction environment for new business. To stay in the game, companies are scrambling to increase pricing precision using new factors and micro pricing cells. The result is a market defined by a few huge winners and a big pool of relatively small, slower-growth players.
Now we see a handful of companies breaking this pattern. These companies believe competitive advantage is about embracing specific customer segments and becoming the first to master addressable marketing tool sets across platforms and channels. Whereas the traditional battle is played out in public, this new approach is largely invisible and being fought behind the scenes in places like ad exchanges and social platforms.
So what is special about addressable marketing, and how are companies taking advantage of the opportunity?
At its core, addressability is about defining a target segment relevant to your line of business. This segment should be understood both in terms of economic value and specific motivations around your category and product. These concepts were further explored in the first article of this series.
[Do you aspire to the C-suite or some other spot in upper IT management? Then bulk up your credentials around today's most pressing IT movement, digital business, at the InformationWeek IT Leadership Summit.]
There are no shortcuts in establishing this understanding. However, once it is established, marketers can create national household plans, or "known plans," that target individuals and segments across platforms, including elements of search, display, social, video, publications, direct mail, and addressable TV, among others. Similar plans can be created for the anonymous or unknown universe, where often only digital identifiers are available. In fact, marketers can actually size the inventory of both known and anonymous impressions for their higher-value segments, set segment-level marketing allowances, and then establish benchmarks to evaluate results.
This approach breaks down distinctions between online and offline strategies and reorients marketing processes away from media-specific approaches and toward customer-centered plans.
The goal for this process is to provide decision makers with a simple and clear view of customers. The trick is that beneath this view lies an array of capabilities, platforms, and tool sets. Today these capabilities, often called platform marketing capabilities, include mastering the different audience management platforms (Google, Facebook, Twitter, and many others), targeting methods (direct match, real-time exchange bidding, intent-based targeting, etc.), and identity creation. It is within the identity management process that a "gold key" is created to link the online and offline event stream for each individual. This diagram demonstrates how these capabilities, platforms, and tool sets align to deliver addressable messages to known and anonymous individuals.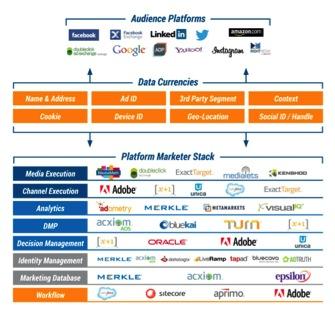 The opportunity for companies taking this approach is significant -- early adopters are seeing 30%+ improvements in marketing efficiency out of the gate with plenty of room to grow. The bigger impact of this approach, however, will be strategic. It provides companies with niche appetites the ability to compete at scale with their mass-market competitors. This, in turn, will increase the diversity of successful insurance business models and generate new avenues for growth.
Dan brings 15 years of applied marketing and strategy consulting experience to his role as Vice President, Insurance and Wealth Management. Dan's experience spans intermediary and direct distribution models and is marked by significant collaboration across marketing, sales ... View Full Bio