What Leadership Traits Are Best for Innovation?
Leadership is rightly seen as one of the most critical components of financial services innovation programs.
Most financial services firms have some sort of innovation program that they hope will help them achieve their goals. Leadership is rightly seen as one of the most critical components of their innovation programs. With their high hopes for success, they usually give one or more executives the responsibility for leading the innovation effort. But as the desire to grow through innovation increases, many insurance companies are asking themselves what characteristics and traits a senior innovation leader should have.
As an innovation consultant, I definitely have opinions that I share with clients about hiring senior innovation leaders. There is some academic research on transformational leadership traits, but I felt the need to gain more practical information around the specific skills required for senior leaders in today's business environment. With the help of my research partners at Celent, we recently surveyed innovation leaders about what traits are required for leading innovation programs. For our survey, we used the innovation leaders attending the Front End of Innovation Conference in Boston. After all, who better to survey than the people who are leading the programs now?
[5 Key Factors in Core Systems Replacement]
The results of the leadership survey (registration required) gave us the key success factors for innovation in four categories: technical skills, leadership skills, personal attributes, and job experience. For technical skills, the ability to think and plan strategically was ranked highest, while the ability to motivate and persuade ranked No. 1 for leadership. For personal attributes, possessing vision was most highly valued. Regarding prior job experience, the innovation leaders who were surveyed stated that innovation leadership was the most important experience one could have.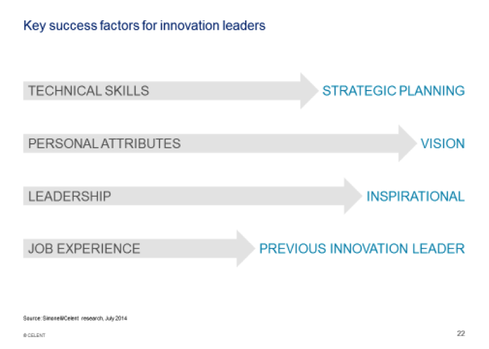 Additionally, when asked what trait that wasn't mentioned was most important for an innovation leader, the most common answer was perseverance.
Because these results are from people currently in innovation leadership roles, the survey gives us relevant details on what specific traits are important for large-company innovation success. If your CEO or HR person is looking to hire a leader to move an innovation program forward, these results suggest looking for an experienced innovation practitioner with strategic and visionary planning skills who can also motivate others.
Mick is an independent consultant and thought leader on innovation in financial services. Previously, Mick served as the senior innovation executive for USAA, where he built and led the innovation program to world class status. During his tenure, USAA received numerous awards ... View Full Bio