Preventing Claims With Infrared Technology
How Fireman's Fund uses infrared cameras to detect damage invisible to the naked eye.
Much of the water and fire damage found in old and new buildings is largely preventable; the problem is that most issues are not visible until extensive damage has already occurred. Fireman's Fund is working on this problem by evaluating old and new structures with FLIR thermal imaging cameras.
"What we have found in the last 20 years is that most damages come from water damage," said Richard Standring, east zone manager for the P&C insurer's risk services and solutions division. "Almost every time, there isn't any visual evidence that anything is going on."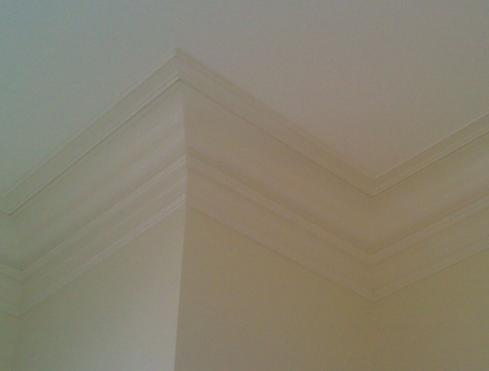 View of ceiling without
FLIR camera
The cameras were initially chosen to detect water leaks and moisture spots, which they do by monitoring changes in air filtration and temperature. Though fire damage is less likely than water-related issues, the technology also detects faulty wiring that could ignite. It scans for an excess of energy being pushed through particular circuits.
When Fireman's Fund began to pursue FLIR technology adoption five years ago, the cameras cost a hefty $25,000 for each of its 30 consultants. Since that time, the technology has become smaller, faster, and cheaper, Standring said. About two years ago, the insurer purchased four cameras to use in a testing phase among its consultants.
[Real-Time Monitoring Helps Insurers Tackle MLR Requirements]
The test program paid for itself within its first week, when consultants examined a brand-new house in Orange County, Calif., valued at $8 million. In the final days of construction, the infrared camera detected a moisture spot in the home's lavish sitting room. It was the sign of a leak caused by an icemaker in the master bedroom suite above it.
After that incident, Fireman's Fund invested in more cameras "almost immediately," Standring said. Over one year, cameras were acquired until its consulting team had enough. Each user is required to complete a weeklong course provided by the camera manufacturer, along with one administered by Fireman's Fund. All users are certified Level 1 thermographers. "There was a bit of a learning curve initially," but consultants have learned to make the cameras part of their routine.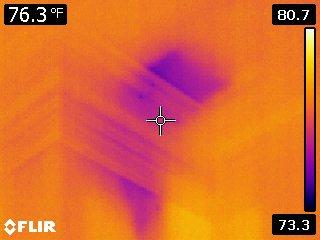 View of ceiling with
FLIR camera
The cameras have become a typical part of the inspection process, but they are not used for every evaluation. Four or five criteria determine whether a structure receives FLIR scanning. Buildings that are older (pre-World War II) or recently constructed, have a history of water damage, or serve as secondary homes are most likely to undergo FLIR evaluation.
The information provided by these scans has helped Fireman's Fund analyze its losses better. "We have reams and reams of data," which helps actuaries establish premiums for its clients and provides an understanding as to where loss dollars are being spent.
Kelly Sheridan is the Staff Editor at Dark Reading, where she focuses on cybersecurity news and analysis. She is a business technology journalist who previously reported for InformationWeek, where she covered Microsoft, and Insurance & Technology, where she covered financial ... View Full Bio