Optimizing a Digital Media Strategy in Insurance
It is important to not only understand disparate digital platforms, but also to identify which audience segments are consuming content and when they are consuming it.
In our previous article, we discussed how insurers can use addressable marketing strategies to achieve their awareness and conversion goals. Yet the ability to identify and target your customer and prospects is continually evolving every day. The importance of staying ahead in the race to develop and integrate new digital platforms is accelerating at a pace that can sometimes feel overwhelming. The individual consumer is increasingly empowered by digital media, through the ability to control when and what type of information they want to consume.
And companies are taking notice: See Facebook's recent acquisition of mobile messaging service WhatsApp for $22 billion, a startup with essentially no revenue, but access to more than 600 million active users. Just check out the figures: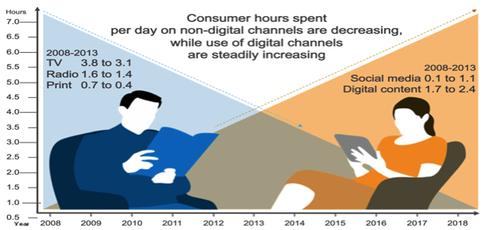 Today's insurance leaders understand that digital investments and competencies must be achieved in order to establish a true competitive advantage in the insurance market space as more consumers investigate and shop on the web. In response to this digital evolution taking place, carriers need to ensure that their digital media programs are the stars of their own media portfolios. It is important to not only understand these disparate digital platforms, but also to identify which audience segments are consuming content and when they are consuming it.
Four critical areas enable insurance leaders to make better and more agile decisions around their digital strategies:

Size digital opportunity relative to the target
Understanding the size of your universe by segment is a critical component to a successful and scalable digital program. Implementing a segment-driven approach to sizing the opportunity will enable carriers to connect specific audience segment groups with distinct audience platforms and size the total opportunity based on each platform's associated reach. From this point, they are better enabled to develop media plans that are tailored to the appropriate segment, customer lifecycle and experience, and drive scale-based on those audience segments they want to target.
[Losing policyholders? The solution is ridiculous]
Gain a deeper visibility into media performance
This starts with having a common and widely accepted attribution approach that will enable the carrier to measure and make sound business decisions around the allocation of your media spend. To gain the most consistent level of insight, it's best to have a single, accurate version connected to your key metrics. How you measure your insights should also be scalable and flexible to add in new sources of data or to simply adjust to changes reflected in your current campaigns. Optimally, both top-down and bottoms-up approaches are recommended and will provide you with a fully modeled view into the event stream that can assign credit to various touchpoints, timing, content, placement, and sequencing. A modeled event stream also provides substantiated insights into the holistic value that any medium contributes to a specific outcome.
Optimize around your specific measures of value
In many situations, carriers will be able to define value solely based on a credit risk factor, while others will be able to create risk tiers (within behavioral or attitudinal segments) for a more thorough understanding of value. Value is also inclusive of the objectives associated with each segment's lifecycle stage such as acquisition, retention, cross-sell, or lifetime value. Nonetheless, a clear understanding of the customer value or "currency" is required for each segment and should be aligned with your budgeting and forecasting plan to better allocate where media dollars are spent. Media plans can then be developed and adjusted based on the cost of reaching these individuals across the various audience platforms in both real-time and non-real-time environments.
Monetize digital media efforts
Now that you have the right and agreed-upon measurement plan in place, it's time to monetize your media efforts. There are three critical components to monetizing your digital efforts:
Once you have established the metrics critical to your marketing plan, make sure that the associated attribution algorithms are built to feed your targeting systems such as demand-side platforms, search, and paid social.
The second component requires creation of a sound marketing plan that not only targets specific segments, but also recognizes the relevant context these audience segments are experiencing during the various stages of the sales funnel. To truly scale up your digital spend, you'll want to be able to target specific audience segments with the right message, starting from consideration stage all the way through conversion and post-purchase state. Design the customer experience to be contextually relevant to the targeted audience through content, creative, offers, and brand.
And finally, make sure that you implement a sound test-and-learn plan. The right testing plan will provide visibility into the incremental impact associated with shifting or increasing your media allocation as you scale into your digital media efforts.
Dan brings 15 years of applied marketing and strategy consulting experience to his role as Vice President, Insurance and Wealth Management. Dan's experience spans intermediary and direct distribution models and is marked by significant collaboration across marketing, sales ... View Full Bio